by Lisa McQuerrey; Updated June 27, 2018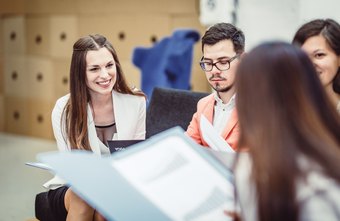 Effective staff management simply means consistently having the right employees – and enough of them – in the right positions. Employees who are well-managed and well trained are better prepared to do their jobs and serve your customers, which can lead to better profits, happier clients and an increase in repeat business.
Good Employees = Good Service
Efficient staffing management begins by hiring the right people for open positions. When you conduct in-person interviews and ask potential employees pertinent questions as they relate to your industry, you get a better feel for who will best represent your company. Hiring efficient, knowledgeable employees will help your business attain a reputation for quality products and service. Hiring undependable or unknowledgeable employees can turn off customers and make you lose business.
Short Lines Benefit Customers
Hiring enough people to efficiently run your business will make customers feel like you respect their time and are committed to giving them efficient, timely service. Even the best employees won't perform to their full potential if they are overworked or are trying to do the job of several people, which can lead to irritability and impatience with both employees and customers. Evaluating your staffing needs and making sure you have enough trained professionals in place to cover regular shifts will help you deliver smooth, customer-friendly service.
Trained Employees Perform Better
When you train employees on all aspects of their job and give them insight into other positions in your business, you develop well-rounded individuals who have a working knowledge of their positions and those of their colleagues. Knowledgeable employees are better able to answer customer questions, handle problems and deliver better quality service. Untrained employees who have to find a manager or send people away without help or information can create frustrated customers.
Smart Scheduling Streamlines Service
Selecting the right people to work together can create an effective team dynamic that leads to more efficient delivery of products and services. Scheduling all new employees together can create havoc and scheduling all veteran employees together can create a struggle for leadership. Creating a schedule with a complementary mix of personality types will set a balance for harmonious work flow and result in a more efficiently operated shift.
Poor Staffing Leads to Business Decline
Untrained and unsupervised staffers can wreak havoc on your business. An employee unfamiliar with your products can sell customers items they don't want or need, creating animosity and resentment; an employee without basic safety knowledge can cause an accident resulting in liability for your company; and too few employees staffing a shift can create long waits for customers who then decide to take their business elsewhere. Effective staffing management can eliminate many of these issues and improve the overall quality of business operations.